Coronavirus is continuing its spread across the world, with around three million confirmed cases in 185 countries. At least 200,000 people have died.
The United States has more than four times as many confirmed cases as any other country.
This series of maps and charts tracks the global outbreak of the virus since it emerged in China in December last year.

The virus, which causes the respiratory infection Covid-19, was first detected in the city of Wuhan, China, in late 2019.
It is spreading rapidly in many countries and the number of deaths is still climbing.
mapped
Click to show confirmed cases in
The world
Africa
North America
Latin America & Caribbean
Asia
Europe
Middle East
Oceania
2,984,538
cases
209,643
deaths
839,120
recoveries
1,000,000
Circles show number of confirmed coronavirus cases per country.
Source: Johns Hopkins University, national public health agencies
Figures last updated 27 April 2020, 21:00 BST

Note: The map and table in this page uses a different source for figures for France from that used by Johns Hopkins University which results in a slightly lower overall total.
The US has by far the largest number of cases, with nearly one million confirmed infections, according to figures collated by Johns Hopkins University. This is more than 10 times the official number reported by China.
The US also has the world's highest death toll, with more than 50,000 fatalities.
Spain, Italy, France and the UK - the worst-hit European countries - have all recorded more than 20,000 deaths.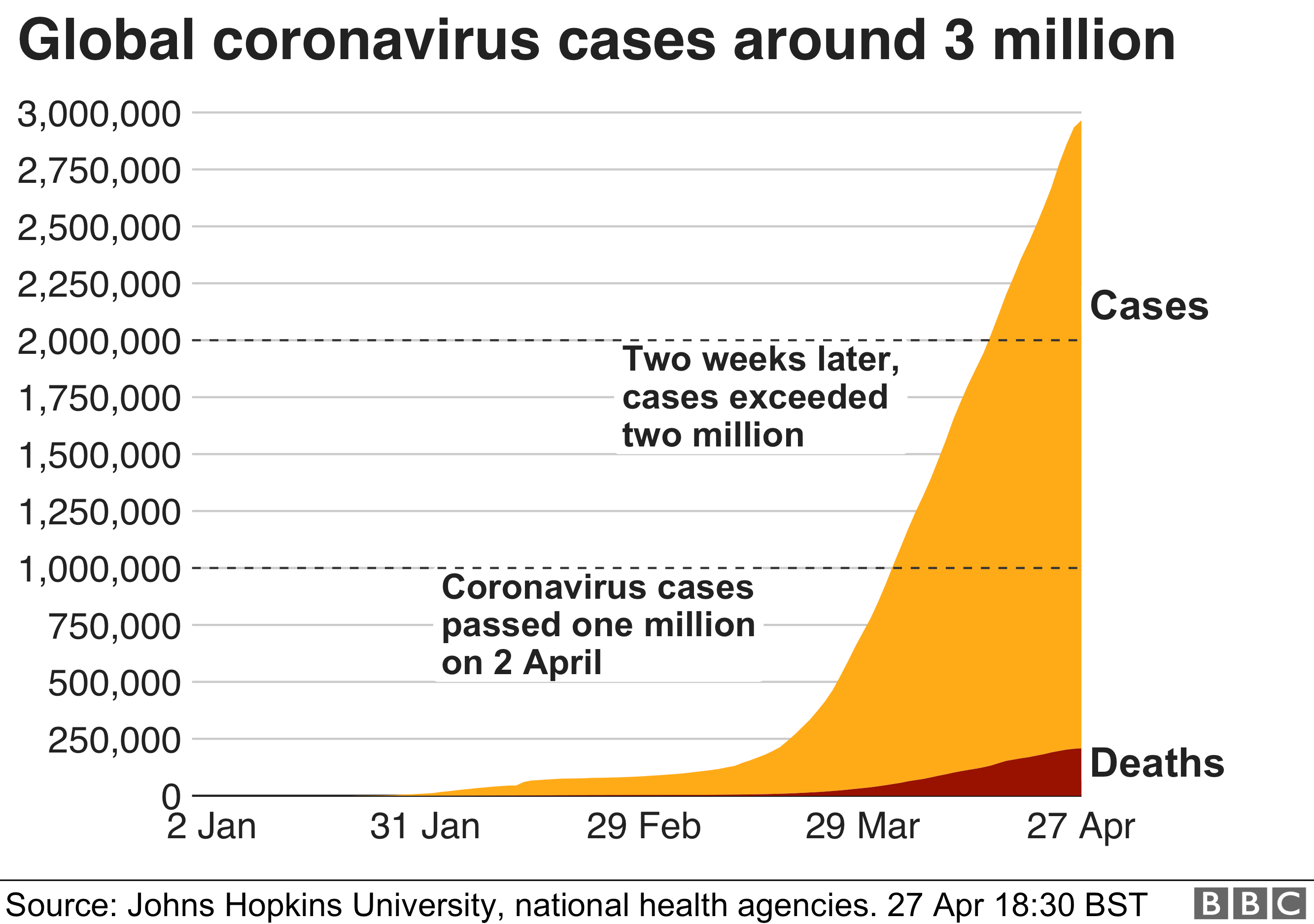 data in detail
Scroll table to see more data
Country
Deaths
Total Cases
New Cases
0
10
100
1k
5k
US55,470977,49024 JAN
26 APR
Italy26,977199,414Spain23,521229,422France23,293128,339UK21,092157,149Belgium7,20746,687Germany6,021158,213Iran5,80691,472China4,63783,912Netherlands4,51838,250Brazil4,29863,328Turkey2,900112,261Canada2,79549,084Sweden2,27418,926Switzerland1,64029,164Mexico1,35114,677Ireland1,10219,648Portugal92824,027India88628,380Russia79487,147Indonesia7659,096Peru72827,517Romania63111,339Ecuador57622,719Poland56211,902Austria54915,274Philippines5117,777Algeria4323,517Denmark4278,698Japan37213,441Egypt3374,782Pakistan29213,915Dominican Republic2826,293Hungary2802,583Colombia2445,379South Korea24310,738Czech Republic2227,431Ukraine2209,009Norway2057,554Israel20215,466Chile19813,813Finland1934,695Argentina1923,892Panama1655,779Morocco1624,120Bangladesh1525,913Saudi Arabia14418,811Greece1362,534Serbia1256,630Moldova1023,481Malaysia995,820Luxembourg883,729Iraq881,847South Africa874,546Australia836,714Slovenia831,402United Arab Emirates8210,839Belarus7511,289North Macedonia651,399Honduras61661Bosnia and Herzegovina601,565Croatia592,039Bulgaria581,363Afghanistan571,703Cameroon561,621Cuba561,389Thailand522,931Estonia501,647Bolivia50950Burkina Faso42632Lithuania411,449San Marino41538Nigeria401,273Andorra40738Tunisia38949Channel Islands35525Armenia291,808Niger29696Albania28736DR Congo28459Somalia26480Kazakhstan252,835Lebanon24710Mali23389Kuwait223,288Azerbaijan221,678Sudan22275Isle of Man20308New Zealand191,469Slovakia181,381Cyprus15822Uruguay15606Guatemala15500Singapore1414,423Ivory Coast141,150Kenya14363Martinique14175Latvia13818Diamond Princess cruise ship13712Saint Martin1374Kosovo12510Guadeloupe12149Liberia12124Ghana111,550Bahamas1180Qatar1011,244Oman102,049Iceland101,792Mauritius10334Venezuela10325Tanzania10299Senegal9736Paraguay9228Bahrain82,723Uzbekistan81,904Kyrgyzstan8695El Salvador8323Trinidad and Tobago8116Guyana874Guinea7996Sri Lanka7588Jordan7449Jamaica7350Montenegro7321Costa Rica6695Georgia6496Taiwan6429Congo6200Bermuda6109Togo698Barbados679Haiti674Myanmar5146Malta4450Mayotte4401Monaco494Sierra Leone493Zimbabwe431Gabon3176Ethiopia3124Zambia388Syria343Malawi336Antigua and Barbuda324Nicaragua313Djibouti21,035Palestinian Territories2342Aruba2100Libya261Angola226Belize218MS Zaandam cruise ship29Equatorial Guinea1258Brunei1138French Guiana1111Cape Verde1109Liechtenstein182Guinea-Bissau173Cayman Islands170Eswatini165Benin164Botswana122Curaçao116Turks and Caicos Islands112Montserrat111Burundi111Gambia110Suriname110Mauritania17British Virgin Islands16Réunion0417Vietnam0270Maldives0226Rwanda0191Faroe Islands0187Gibraltar0141Madagascar0128Cambodia0122Uganda079Mozambique076French Polynesia057Nepal052Chad046Eritrea039Mongolia038Timor-Leste024Laos019Central African Republic019Fiji018New Caledonia018Grenada018Namibia016Dominica016Saint Kitts and Nevis015St Vincent and the Grenadines015Saint Lucia015Falkland Islands013Seychelles011Greenland011Vatican09Papua New Guinea08Bhutan07Western Sahara06Saint Barthelemy06South Sudan06Sao Tome and Principe04Anguilla03Yemen01
Show more
This information is regularly updated but may not reflect the latest totals for each country.
Source: Johns Hopkins University, national public health agencies
Figures last updated: 27 April 2020, 21:00 BST
Note: The past data for new cases is a three day rolling average
In China, the official death toll is just over 4,600 from about 84,000 confirmed cases. Numbers for deaths jumped on 17 April after what officials called "a statistical review".
Critics of the Chinese government have questioned whether the country's official numbers can be trusted.
The country's authorities have now lifted many of the stringent measures they brought in to bring the disease under control, including a ban on all travel to and from Wuhan - the first place to go into lockdown.
After the virus's discovery late last year, the outbreak was declared a global pandemic by the World Health Organization (WHO) on 11 March. This is when an infectious disease is passing easily from person to person in many parts of the world at the same time.
While around three million people are known to have been infected worldwide, the true figure is thought to be much higher as many of those with milder symptoms have not been tested and counted.
New Zealand, however, says it has stopped community transmission of coronavirus, and is set to move out of its toughest level of social restrictions. From Tuesday, some non-essential businesses, healthcare and education activity will be able to resume, but most people will still have to stay at home and avoid all social interactions.
While some other countries are also beginning to ease restrictions where disease peaks are thought to have passed, such as in Europe and South Africa, others are only now starting to impose them as cases and deaths begin to rise.
Across Latin America, where many economies are already struggling and millions live on what they can earn day-to-day, there are concerns about the strain the growing number of virus cases could put on health care systems. Of particular concern are Ecuador and Brazil.
Ecuador has already seen its health system collapse - thousands have died from the virus and other conditions that could not be treated because of the crisis. Mortuaries and morgues have been overwhelmed.
Brazil has also seen a steep rise in both cases and deaths, with every state in South America's largest country affected. But there are fears that the country's official numbers do not reflect the true scale of the crisis.
Cities and local authorities have imposed measures to try to prevent the virus's spread but Brazil's President Jair Bolsonaro has come under criticism for his own response, including attending an anti-lockdown rally and sacking his health minister who had advocated social distancing.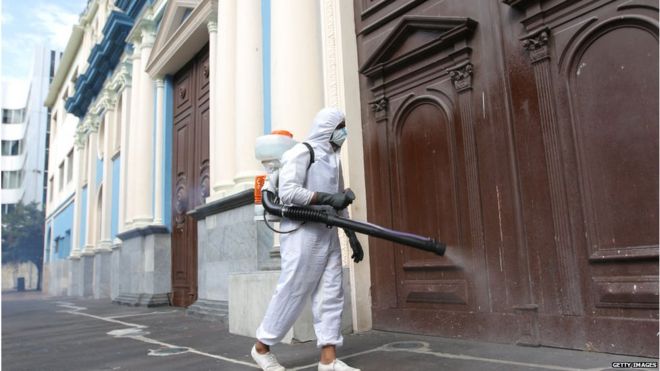 Image copyright
GETTY IMAGES
Across the world, more than 4.5 billion people - half the world's population - are estimated to be living under social distancing measures, according to the AFP news agency. Among them are Muslims beginning to observe the holy month of Ramadan in isolation.
The impact of this global shutdown is huge.
The world economy faces the worst recession since the Great Depression of the 1930s, the International Monetary Fund has said.
And the UN World Food Programme has warned the pandemic could almost double the number of people suffering acute hunger.


Europe battling to slow infection rates
Italy and Spain remain the worst affected countries after the US and have been in lockdown since early March.
Spain has more than 220,000 confirmed cases - the second highest global figure - while Italy has the world's second highest death toll at more than 25,000. Both countries are now joining others around Europe in seeing a slowing of infection rates, which appears to show the success of quarantine measures.
Spain reported its lowest daily death toll since 20 March on Sunday, when it confirmed 288 more people had died of the virus - although numbers jumped slightly on Monday to 331.
The slowing of reported cases and deaths has been followed by a lifting of some restrictions for people and businesses.
Spanish children under the age of 14 are now allowed to leave their homes for an hour a day, after six weeks in lockdown.
Italy has started to allow certain shops and factories to reopen and the prime minister says further measures will be eased from 4 May.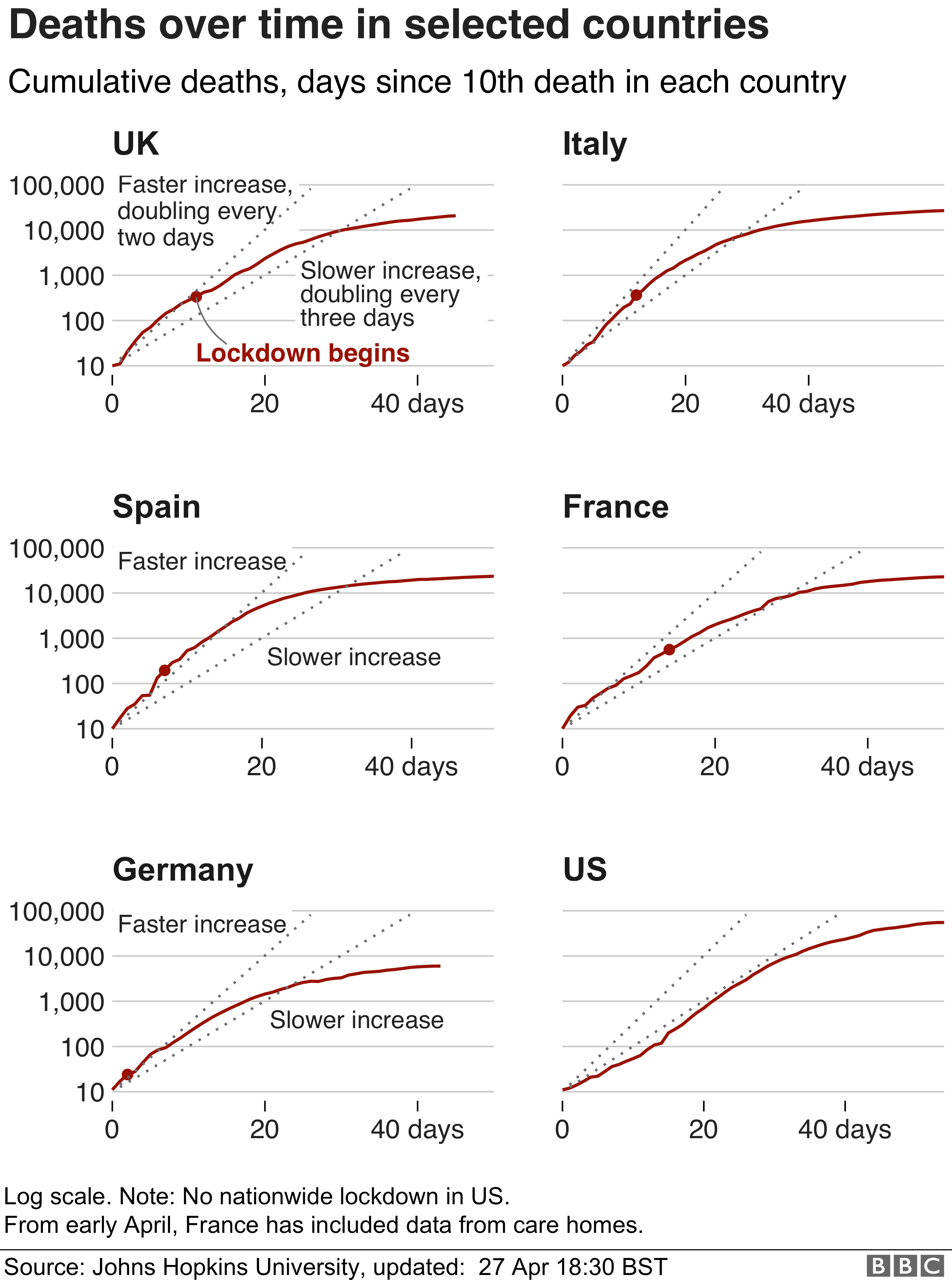 In the UK, there have been around157,000 confirmed cases and more than 21,000 deaths.
Like Spain, deaths in the UK grew rapidly at first, doubling faster than every two days. While the rate of increase has slowed, the British government has ruled out lifting lockdown measures until at least early May.
Other European countries easing restrictions include Austria, Denmark and the Czech Republic and Germany, where facemasks have become mandatory in public transport.
In Switzerland, doctors' surgeries, dentists, nursery schools, hairdressers, florists and garden centres were among those allowed to reopen. Bars and restaurants remain closed.

New York remains epicentre of US outbreak
With close to one million cases, the US has the highest number of confirmed infections in the world. The country has also recorded around 55,000 deaths.
The state of New York has been particularly badly affected, with more than 17,000 deaths in New York City alone.
However, State Governor Andrew Cuomo has said the toll "seems to be on a gentle decline", with deaths over the first four days of the last week down a third on the same period the week before.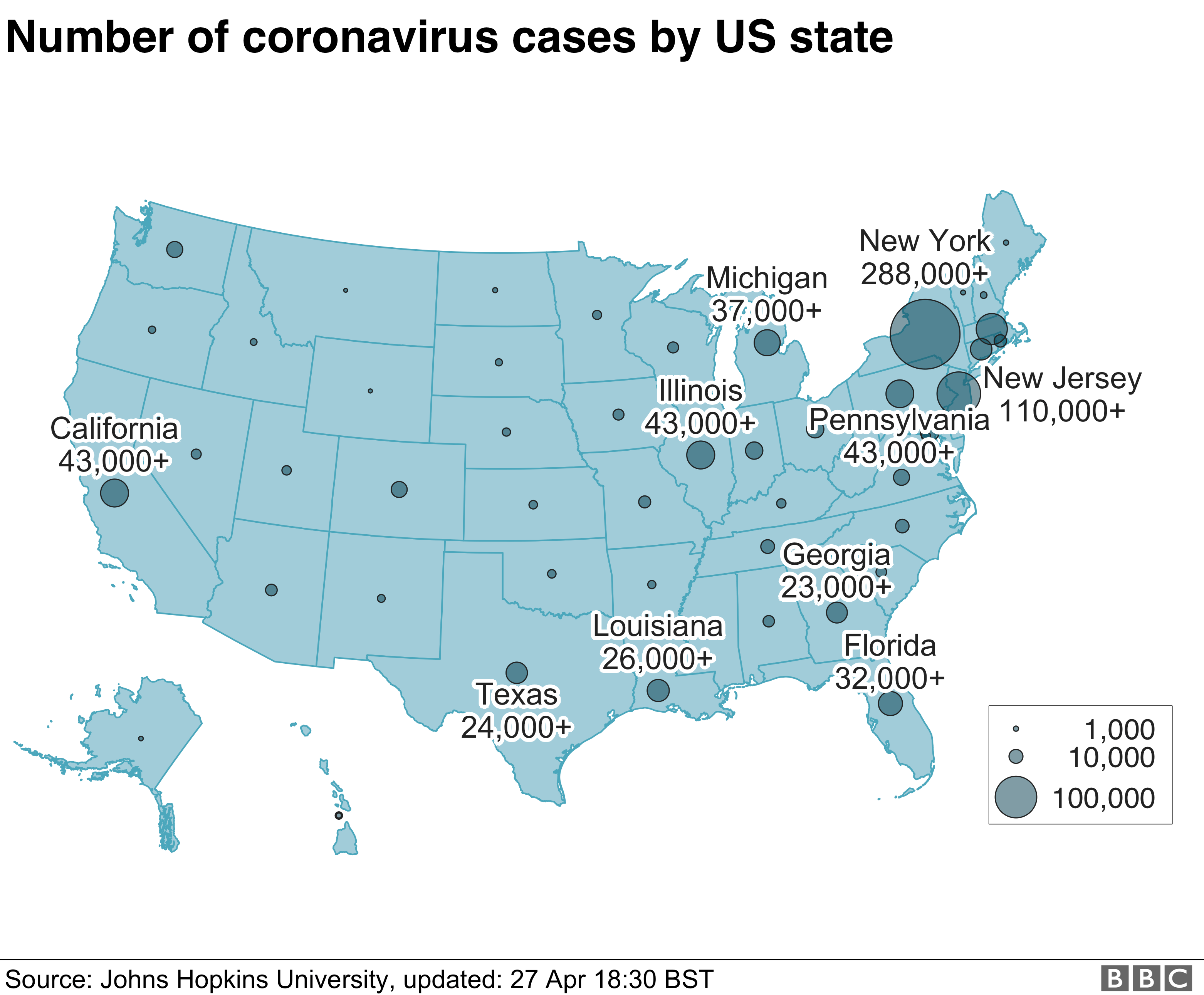 Elsewhere in the US, some states, including Georgia, Oklahoma, South Carolina, Tennessee and Alaska have lifted some of the lockdown restrictions, although customers visiting newly reopened businesses will still be expected to maintain social distancing measures.
Georgia, which has one of the fastest reopening timetables in the country, is allowing bowling alleys, spas, hair and nail salons, as well as tattoo parlours and other personal care businesses to resume operations. From Monday, dine-in restaurants and theatres have also been allowed to open.
Last week, official unemployment figures showed that more than 26 million Americans have filed for jobless claims in the last five weeks.
The US Congress has passed a relief package amounting to some $484bn (£391bn), the fourth aid bill to clear Congress in response to the virus outbreak, bringing total federal spending on coronavirus assistance to to $3tn.
US President Donald Trump, meanwhile, was criticised by the medical community after suggesting research should be done into whether coronavirus might be treated by injecting disinfectant into the body.